The Man Behind the Paintings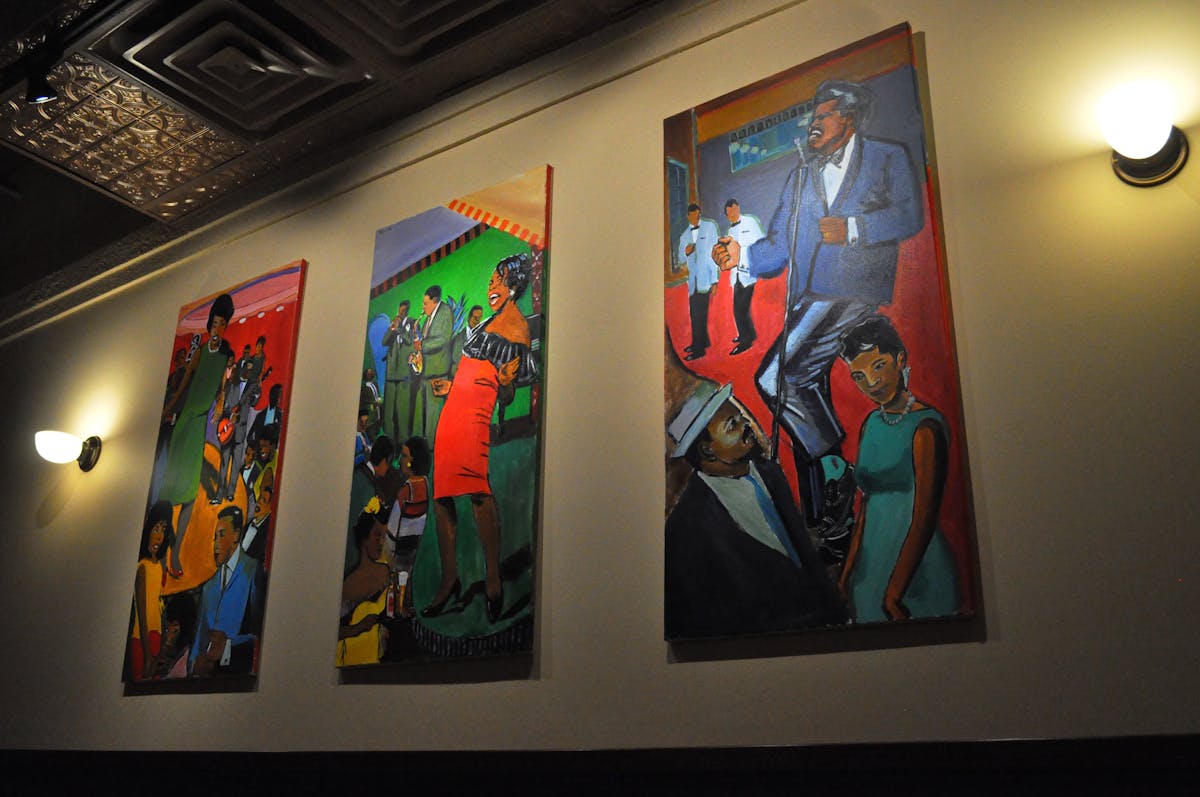 The artwork on our walls reflects the vivacious sense of community we aspire to achieve. The jazz- and New Orleans-oriented styles go hand-in-hand with the dishes we are proud to serve. And our guests ask about them all the time. So who is the artist?
Wayne Manns was born in New Jersey, but has lived in Mexico, California, and Bloomington, and currently resides in New Orleans. We talked to him about his inspirations for his artwork, and how the Uptown came to acquire so many of his paintings.
So Wayne, tell us a bit about yourself. Your artistic background, what first got you into art, et cetera.
"Music was and is huge in my family. I got started in the arts through music. My father was a classically trained musician, but there weren't a lot of conductors with darker skin in the 1950s, so he started playing jazz. Myself, I started by playing classical piano, but I loved the styles of Sly & The Family Stone, Grand Funk Railroad, Santana, et cetera... so I started copying their styles and doing covers of their songs. But I always went back to jazz.
"There was a bad period of my life, I spent some time in jail, and had time to reflect on the choices I had made up until that point. But once I got out, there were people who believed in me and saw the best in me, and I wanted to turn my life around for myself as well. I was in the Bay Area in California, and I met a woman. She encouraged me to paint because I was always sketching and drawing little things here and there. I trusted my hands with what I wanted to accomplish with the visual arts. So I found that there was this connection between what I could hear and then turn and play, and what I could see and turn to draw or paint on a piece of paper or canvas. And that's how the love for painting took off."
Have you ever experimented with different types of painting?
"Well yes, currently I am repurposing old shutters and pieces of wood that I find down here in New Orleans, much of which are ruins from Hurricane Katrina. There's a lot of material - I love examining it, rescuing it; kind of like an archaeologist would do. And I paint the people of New Orleans. My wife asks me why I don't paint white people, and I say 'Well, if I had white paint, I would paint white people.' [We both laugh]. But really, I paint what I am familiar with, which is the black experience."
How did you and Michael Cassady become acquainted?
When I came to Bloomington, I met Strats [former co-owner of Uptown] before I met Michael. I just loved coming in on Sunday mornings for breakfast. But it really took shape when Michael took over. He had a vision for expanding his place, and a vision for creating a restaurant with a New Orleans atmosphere. And he saw some of New Orleans in my work. So that's how Michael and I met. He has so many of my paintings because I was about to leave town for New Orleans, I was about to move down there, but I couldn't take all my paintings with me. So I made an offer to Michael for some of my paintings, and he accepted. And still, to this day, we keep in touch.