Meet the Team: Martin DeJesus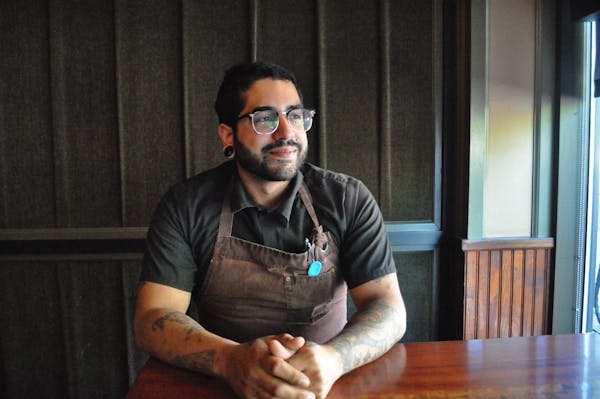 Martin DeJesus comes to the Uptown with 13 years of culinary experience. See what he's bringing to the table.
Tell me a bit about yourself--where you are from, how you got to Bloomington, etc.
I'm originally from upstate New York - Rochester, specifically - and I've been traveling around for over a decade now cooking in different places. I landed in Bloomington with my fiancée while she attends her PhD program at Indiana University (Central Eurasian studies & cultural anthropology).
What is your culinary background?
I've been cooking for about 13 years; I first started when I was in high school. My first job was in fast food, and eventually that grew into a love of feeding people. When I lived in Atlanta, I did a stage (an unpaid internship) at Home, an upscale restaurant in a residential district of the city. It was my first experience in a silent kitchen--it was a huge staff of highly dedicated and focused cooks, and ever since then it's what I've wanted to do. Culinary school wasn't an option, so I undertook a lot of independent study. I moved around, worked at a lot of different types of places, and absorbed as much information as possible.
What is your favorite type of cuisine to work with?
Southern food. I love it. It's beautiful and messy at the same time--you can eat it with your hands, you can eat it with silverware. There's a lot of history in it, and it's the only true cuisine that's come from the US. It's a marriage of different cultures--and it's not even just African, Hispanic, and European immigrants creating this cuisine, it's also people from all parts of Asia and South America who live in the South. The transfer of ingredients is not so simple, there's a lot of different techniques that come from parts of China, for example, that are implemented but aren't really recognized.
Is that part of the reason you wanted to come to the Uptown?
I wanted to work here after speaking to Galen and Michael, they are both really genuine people. The restaurant has a really great following and community involvement. I lived in Mississippi for awhile, so I do love Cajun/Creole cuisine and the chance to expound and work on that sounded like a great opportunity.
What principle would you say is most important about working in a high-volume establishment like Uptown?
Consistency.
What do you plan to bring to the Uptown, not just as a restaurant, but as a community establishment that has been a staple of Bloomington culture for the past 43 years?
I would like to help us with developing company culture. It permeates into the way servers interact with guests, to the way back of house staff comes in to prepare for service, to guests' experience from the moment they walk in the door. And it all stems from the way you treat your staff. Ensuring everyone knows they have a voice makes people that much more excited about being at work, and in turn drives them to improve upon themselves and the team as a whole. So the idea is to get everyone to the point where they are striving for better, and therefore are pushing each other. But to have a company culture, you need a management team who will emulate those ideals so it trickles down to the staff, and I look forward to being a part of that.